July and August are the best months to see orcas in the Strait of Gibraltar, as they are associated with the migration of Tuna
Last weekend we organized a tailor-made trip to watch orcas with a group of ten people from the European Commission. We used an inflatable speedboat that allowed us to be faster while having a safe and fun navigation. On this occasion we were fortunate to count with Juanma Salazar as skipper, as he has a tremendous amount of experience navigating and looking for cetaceans all around the world, and his knowledge on the waters of the Strait of Gibraltar is extensive.
We planned the day and time to set sail from Tarifa, according to the best tides and wind. Although the conditions were good in the early afternoon, we waited a little bit more for the wind to drop so we could have the most enjoyable experience as possible. This ended up being a great decision as the wind and waves were minimal and the navigation proved to be comfortable… but adventurous at the same time!
Once we reached a good spot for the orcas, we reduced the speed and started looking for black fins on the surface. We saw a few shearwaters, including Scopoli's Shearwater and Balearic shearwater, which is considered to be Critically Endangered by the IUCN, but no marine mammals for some time. Then, when we approached a whale-watching boat nearby, we saw them. First a few blows in the distance, then, the tips of the fins surfacing, and a few seconds later, a pod of five orcas that were heading west at 5 knots.
We followed them, along with other whale-watching boats, but at a distance, being very respectful with their behavior, and waiting for a chance to seeing them closer in case they happened to approach us. Suddenly, they broke the surface just a few meters behind us, Juanma stopped the engine, and they swiftly but gently moved closer, just a few meters from us, and two of them actually passing below our boat! It was one of those moments with wildlife when everyone present freezes and exclamates: "Wow!" or "Aaahh" or "Ooooooooh" with full delight.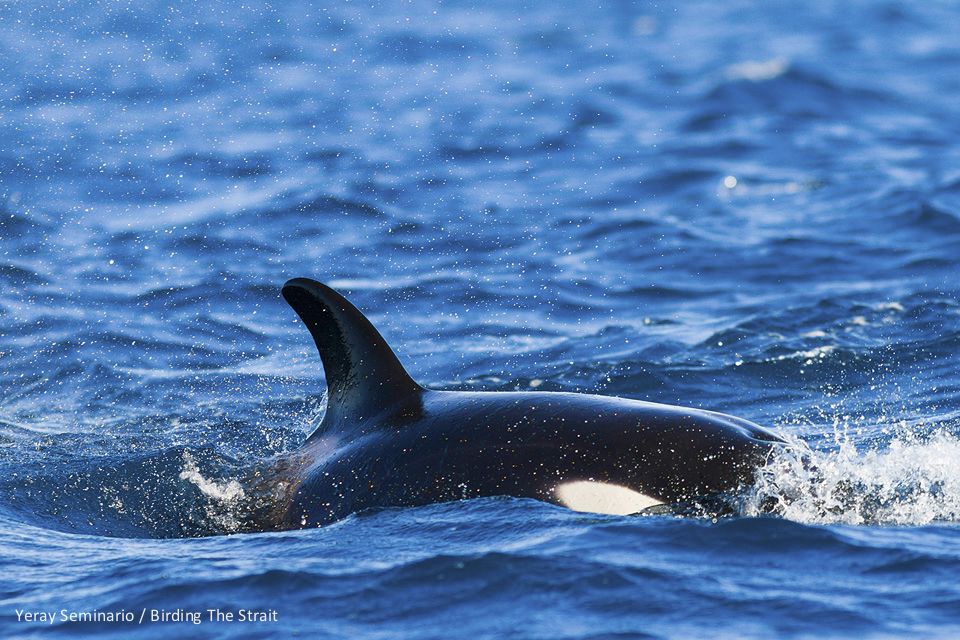 Even though it's difficult to predict how a trip like this is going to be, in the end we were very lucky and the decision making proved to be the best. The observations of the orcas were superb and everyone enjoyed an adventurous trip. Thanks to everyone who participated for being so friendly and cooperative!